I have had great success with the lemon yogurt cake from barefoot contessa at home. It is so moist, lemony, and delicious not to mention quick and easy to make. Her recipe is made in a classic loaf pan, which comes out great.
Today I decided to make it but use a mini loaf pan instead and since blueberries were screaming out to me at the market I thought, mmm...I love blueberry and lemon...why not add some!
Here's the recipe:
Preheat oven to 350 degrees.
Grease the bottom of your pan. Line with parchment paper. Grease and flour pan.
In a small bowl sift together the dry ingredients:
1 1/2 cup flour, 2 tsp. baking powder, 1/2 tsp. salt.
In another bowl, whisk together
1 cup plain whole-milk yogurt
1 cup Sugar
3 extra large eggs
2 tsp grated lemon zest (2 lemons)
1/2 tsp vanilla extract
Slowly whisk the dry ingredients into the wet ingredients.
With a rubber spatula, fold in 1/2 cup vegetable oil.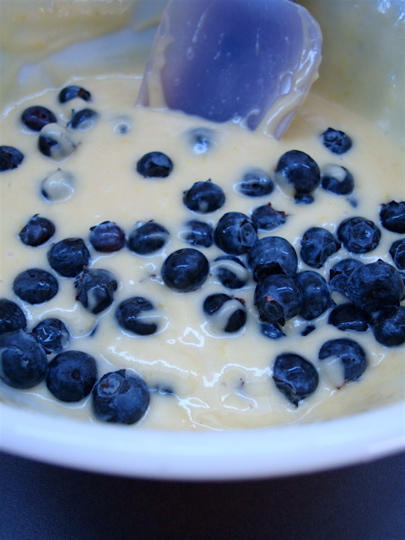 Add blueberries. I decided to make half of my mini cakes plain lemon and half with blueberries, so I only added a little over 1/2 a cup. I bet a little over a cup of berries for a whole loaf or all of the mini loaves would be good. (Obviously add more if you love your blueberries!)
Raspberries might be good too! Or skip the berries. You won't be disappointed either way.
Pour into prepared pan. If you are using a regular loaf pan, bake for about 50 minutes or until a cake tester placed in the center of the loaf comes out clean.
For a mini loaf pan of 8 loaves, bake for about 25 minutes or until a cake tester placed in the center of the loaves comes out clean.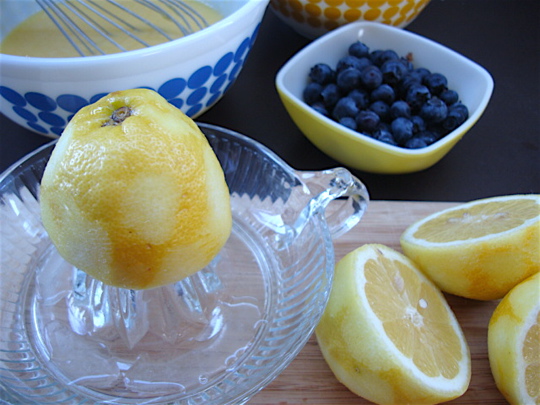 Juice the two zested lemons.
Heat 1/3 cup lemon juice and 1/3 cup of sugar in a small pan until sugar dissolves and the mixture is clear. Set aside.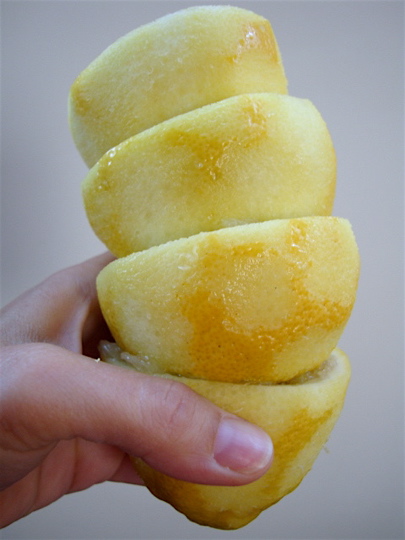 When the cake is done let it cool in the pan for 10 minutes. Carefully place the mini loaves (or loaf) on a baking rack over a sheet pan.
While the cakes are still warm, pour lemon-sugar mixture over the cakes and allow to soak in. Cool.
In a small bowl combine 1 cup of confectioners' sugar and 2 tablespoons of your fresh squeezed lemon juice. Pour over your cakes (or cake).
Yum! The blueberries are such a great addition, I wish I put them in all of my mini cakes!
I thought the mini loaves would be a great idea so I could throw some in the freezer for a later date or give them to friends. Now I'm afraid I may consume all eight myself!